Piles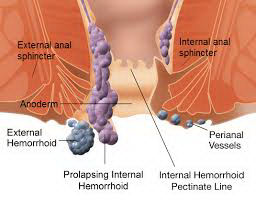 Piles are very embarrassing conditions for a patient. It can present in 3 basic forms
1. Pain-- This is due to fissure or a cut in the lining of anal canal. It can also be due to prolapsing of piles from anal canal.
2. Bleeding-- This is due to bleeding from enlarged piles or due to fissure.
3. Prolapse-- This presents as something like small grape like structure coming out from anal canal.It can also be due to purely skin swelling in which it is called sentinel pile which is a indicator of previous fissure.


Conventional surgery The surgical treatment available is very painful procedure which takes 30 to 45 mins depending on the severity of piles. It leads to narrowing of anal canal in nearly all cases which in turn leads to recurrence. Dietary restrictions are many after surgery

Laser treatment Technology has now upgraded the treatment for this condition. Laser treatment is very quick and practically painless compared to surgery. The severity of piles does not make a difference in Laser. Patients are back to normal activity next day in most cases. In addition it has the benefit of no dietary restrictions of non veg , spices etc. In last 7 years and more than 1000 cases no recurrence cases have been seen.

In fact Laser is now the best solution for cases of recurrence after surgery.
Piles is a critical condition that can affect both men and women. It involves bleeding from the anal canal and can cause pain and embarrassment to the patient. Treatment for this condition mainly involves surgery. If you or anyone in your family has been affected by piles, then you should consult a piles surgeon in Mumbai who can treat the condition in a short time and help the person to resume normal life. Orchid Laser Center is a reputed clinic in Mumbai offering top notch piles surgical solutions for all patients. If you are looking for best piles surgeon in Mumbai, then you can certainly find it here in Orchid Laser Center.
Here at Orchid Laser Center, we have the best piles doctor in Mumbai who has a lot of experience in managing critical cases. Once you get in touch with us, we can have our piles specialist doctor in Mumbai to look at your condition and then recommend you the right surgical measures so that you can get back to a healthy life. Our piles specialist in Mumbai can also advise you on the best ways to avoid any kind of relapse of the condition. Consulting our best doctor for piles in Mumbai can really help you to cope well with your condition.
When you get in touch with us, we are going to have our piles doctor in Mumbai take a closer look at your condition to assess the seriousness or advancement of the condition. We are then going to come up with an advanced plan to treat the area so that further progression of the disorder is controlled. At Orchid Laser Center, we do not provide our patients with a "one size fits all" treatment plan. We always come up with a unique method of treating your condition so that you can have the best prognosis.
Apart from treating piles for you and helping you to get back into feet, out doctors can also advice you in the best possible way on post surgical measures. It is important that you take special precautions at least for the next few months so that there are no relapses or complications of piles. While it is true that the prognosis for laser treatment is much better than that of traditional surgery, we help you to manage your health through this difficult stage of life so that you soon get back to normal health.
Get in touch
Fill the form and we will respond asap.